With the gradual maturity of Internet technology and the popularization of 5G technology, "mobile office" has become a new trend. For financial practitioners, advertising practitioners, BD, sales and other "flying trapeze" who often deal with data, mobile office is even more commonplace. However, only a "notebook" can not meet the increasing office needs, especially most notebooks are 13 or 14 inches in size, and the display effect is slightly insufficient. At this time, the "expansion screen" comes in handy. Display size, better portability, and more intelligent terminal connections, eliminating the trouble of "double-book office". Today I want to introduce the mobile portable display produced by Lenovo (ThinkVision)-Siyi 15, designed for mobile office, making the road more efficient!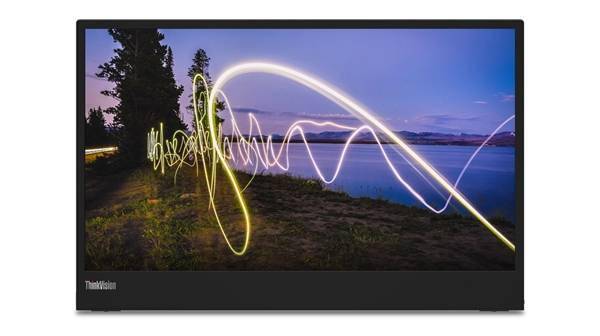 HD resolution, thin and portable
Compared with the mobile portable displays on the market, Lenovo (ThinkVision) Siyi 15 has been upgraded again in size-up to 15.6 inches, with FHD resolution, providing a better visual experience. Although the size has become larger, the portability of the Siyi 15 remains the same. It uses a three-sided narrow frame design. The thinnest point is only 6mm, and the body weight is only 860g, which is even less than the weight of a tablet and is suitable for multi-scene needs.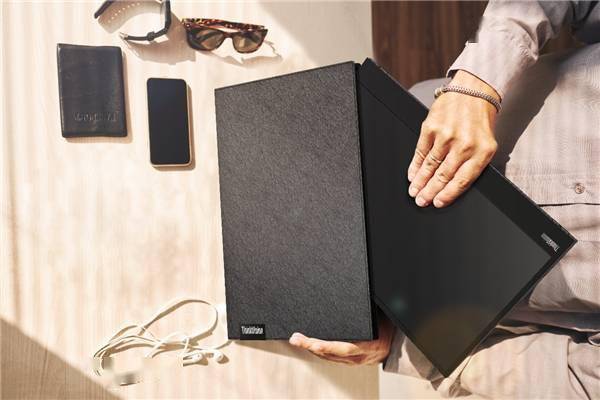 One-line connection, easy to expand
One of the troubles of the mobile portable screen is that its power consumption reduces the battery life of the notebook sharply, and the Siyi 15 with dual USB-C interfaces does not have this trouble.
The Siyi 15 with two USB-C ports can be connected to the laptop while being connected to the power supply. The advantage of this is that the power supply can supply power to the laptop through the Siyi 15, allowing users to easily manage the power supply of the portable display. Moreover, Siyi 15 also supports a first-line connection scheme, which is more compatible with notebooks, and is easier to connect and expand different smart devices while saving desktop space.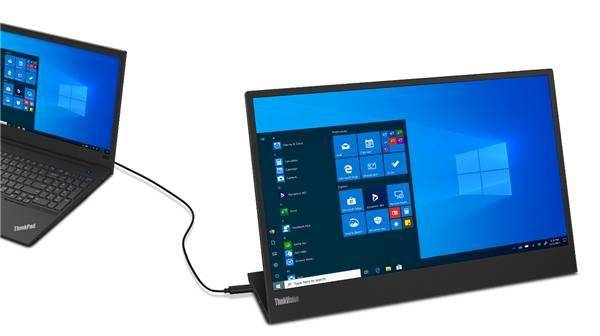 Intimate design, low blue light
In terms of detailed design, Lenovo (ThinkVision) Siyi 15 is also very intimate.It uses an integrated bracket design. No additional bracket is required when used. It can be opened and closed at a right angle of up to 90°, and the bracket can be adjusted in height and lift height. It supports up to 10mm to meet the needs of multiple scenarios and greatly enhance the comfort of use.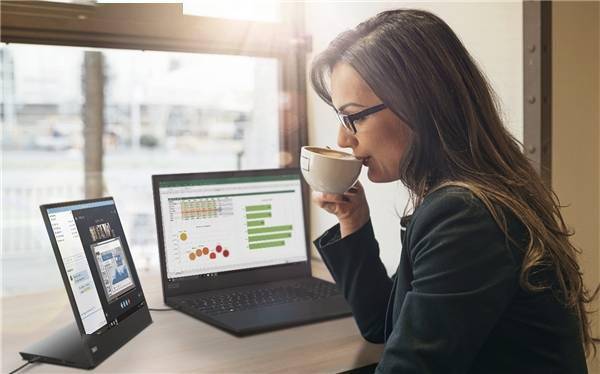 Siyi 15 also has an independent brightness adjustment button, which can be adjusted from 0 to 100%. Next to the brightness adjustment button is an independent anti-blue light mode switch, which can switch between low blue light mode and normal display mode with one button, which effectively protects eyesight and relieves eyes. Department of fatigue.
Getting used to "multi-screen mobile office" is necessary in this era of information explosion. On the one hand, we are surrounded by massive amounts of information every day, no matter whether it is actively acquired or passively received, there is an indispensable "window" that can carry it; on the other hand, the continuous progress of portable smart devices pursues "lightness" and "thinness". As a result, interfaces usually rely on USB-C, which also makes it more difficult for traditional displays to connect to devices. The Lenovo (ThinkVision) Siyi 15 monitor can solve these "pain points" and effectively help the mobile office crowd to increase productivity.You can buy laptop batteries on oriccabattery.co.uk